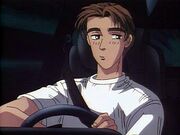 Takumi Fujiwara
is the son of Bunta Fujiwara, the owner of a tofu shop in his hometown Akina.
Counterparts
Meta Knight (Kirby)
Jin Kazama (Tekken)
Goku (Dragon Ball Z)
Homer Simpson (The Simpsons)
Fry (Futurama)
Bobby Hill or Hank Hill (King of the Hill)
Rick Sanchez (Rick and Morty)
Numbuh 1 (Codename: Kids Next Door)
Bob (Bob the Builder)
Natsu (Fairy Tail)
Tarzan (Tarzan)
Nobita Nobi (Doraemon)
John Bennett (Ted)
Ad blocker interference detected!
Wikia is a free-to-use site that makes money from advertising. We have a modified experience for viewers using ad blockers

Wikia is not accessible if you've made further modifications. Remove the custom ad blocker rule(s) and the page will load as expected.