Alaina1397's Movie-Spoof of "Tangled."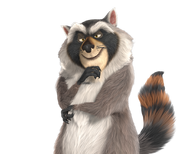 Cast:
Princess Rapunzel - Andie (The Nut Job)
Flynn Rider - Surly (The Nut Job)
Pascal the Chameleon - Buddy (The Nut Job)
Mother Gothel (Young) - Gabi (Rio 2)
Mother Gothel (Old) - Frog Princess (The Princess and the Frog)
Maximus - Angus (Brave)
Hookhand Thug - Raccoon (The Nut Job)
Ugly Thug - Kron (Dinosaur)
Hook Hand Thug - Banzai (The Lion King)
Captain of the Guard - King Louie (The Jungle Book)
Guards - Monkeys (The Jungle Book)
The Stabbington Brothers -?????????????
Vladimir -
Greno -
Pub's Thugs -
Ulf -
The Flood Water - Bruce (Finding Nemo)
The King and the Queen - Blu and Jewel (Rio)
Ad blocker interference detected!
Wikia is a free-to-use site that makes money from advertising. We have a modified experience for viewers using ad blockers

Wikia is not accessible if you've made further modifications. Remove the custom ad blocker rule(s) and the page will load as expected.