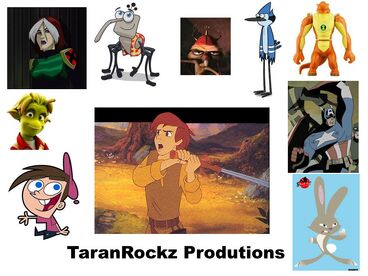 TaranRockz
LIST OF MOVIES/VIDEO GAMES/TV SHOWS SO FAR
A.T.O.M. Alpha Teens On Machines
Alienators: Evolution Continues
Fanboy and Chum Chum
Foster's Home for Imaginary Friends
The Amazing World of Gumball
The Avengers: United They Stand
The Avengers: Earth's Mightiest Heroes
The Super Hero Squad Show
A LIST OF PARODIES
MY FAVORITE CHARACTERS:
Taran (The Black Cauldron)
Rouge (X-Men Evolution) (Taran's Girlfriend)
Skunk and Rabbit (Skunk Fu)
Ad blocker interference detected!
Wikia is a free-to-use site that makes money from advertising. We have a modified experience for viewers using ad blockers

Wikia is not accessible if you've made further modifications. Remove the custom ad blocker rule(s) and the page will load as expected.