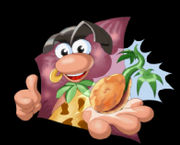 Tarayzan is the jungle man in Rayman 1.
Bio
Species: Raypeople
Skin Color: Tan
Hair Color: Brown
Clothing: Yellow Shirt with the Brown Dots
Allies: Rayman, The Magician, Betilla, Bizzit, The Musician, Joe
Enemies: Mr. Dark, Darkman (Dark/Bad Rayman), Mr. Sax, Mr. Stone, Space Mama, Mr. Skops, Livingstones, Hunters, Darktoons
Counderparts
Stanley (Thomas the Tank Engine and Friends)
Mondo Gecko or Nobody (Teenage Mutant Ninja Turtles)
Ad blocker interference detected!
Wikia is a free-to-use site that makes money from advertising. We have a modified experience for viewers using ad blockers

Wikia is not accessible if you've made further modifications. Remove the custom ad blocker rule(s) and the page will load as expected.