województwo lubelskie > powiat lubelski > gmina Zakrzew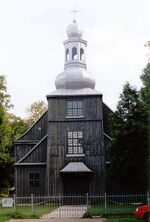 Targowisko, kościół par. pw. św. Tomasza Becketta i św. Małgorzaty
Drewniany, 1746, odnawiany 1858, gruntownie restaurowany z podwyższeniem prezbiterium i zakrystii 1923-26.
Barokowy. Orientowany. Konstrukcji zrębowej, oszalowany, na nowszym podmurowaniu ceglanym, wewnątrz otynkowany. Nawa z zaskrzynieniami, prezbiterium węższe i niższe, przy nim po obu stronach zakrystia i skarbiec. Od zachodu kwadratowa wieża, przy której dwa pomieszczenia - w nich przedsionek i schody na chór muzyczny. Wyposażenie głównie barokowe XVIII w.
Bibliografia: Katalog Zabytków Sztuki w Polsce t. VIII, Województwo lubelskie, pod red. R. Brykowskiego i E. Rowińskiej, z. 8, Powiat krasnostawski, opr. T. Sulerzyska, F. Uniechowska i E. Rowińska, Warszawa 1960.
Ad blocker interference detected!
Wikia is a free-to-use site that makes money from advertising. We have a modified experience for viewers using ad blockers

Wikia is not accessible if you've made further modifications. Remove the custom ad blocker rule(s) and the page will load as expected.