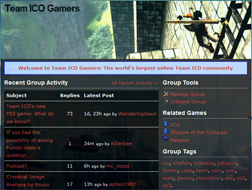 Team ICO Gamers is a Eurogamers-based online community focused on the video games developed by Fumito Ueda and his team at Sony Computer Entertainment Inc., commonly referred to as Team ICO, after their first video game "ICO". It was created in April 2007 by Alex Rowe. to which he has various published works credited relating to "ICO" and "Shadow of the Colossus." The group claims to have the largest membership of any community dedicated to the same developers and their work (533 members in December 2007.)
Members
Members are players, professionals, developers and members of the press.
Features
Features include news, screenshot galleries, previews, articles, interviews and a forum. In September 2007, the group launched the Team ICO Gamers Blog, which provides a means to non-members to stay in touch with all the activities happening inside the group. It has already attracted 57,984 visitors and a loyal following of 88 readers via feed. In December 2007, the blog was re-designed to allow easier navigation and archiving of old posts.
Demographics and other statistics
According to a survey (October 2007) 85% of the visitors are male and 15% female. 40% are less than 21 years old and 60% are older than 21. During a second survey (November 2007) it was revealed that 55% of the readers visit the blog daily, 15% every two or three days, 15% once a week and 15% visit when there is special news.
External Links