Team Wanderer is a group of various warriors from various worlds started by TLSoulDude, their leader. Their mission: Protect the universe from Armageddon and psychopaths like Wraith and Blacknova. Though, they're not above playing at Nukid's bar.
Xemnas1992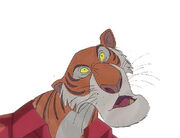 Xemnas is part of an ancient race of bipedal mammals that bare a large amount of resemblance to Siberian Tigers. Being born in the south part, he donned a Hawaiian shirt. His people have a natural good memory and can mimic the powers around them. However, his planet was razed by the Anti-Authors and Darksides for no apparent reason and he ended up the last of his kind. He traveled the universe, meeting with a princess named Giselle and the two fell in love, which spells hope for his species. While he was going solo, he met up with TL. The two had been friends for many years, so he naturally joined the hedgehog on his travels.
Powers/Weapons: Mimickry, enhanced memory, and blaster.
Hanabi Hyuga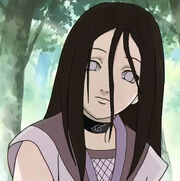 The heiress to the Hyuga clan. Hanabi was temporarily kidnapped by Drake Ebon Darkstar. She pretended to be attacking her friends and family, but turned on Drake at the last moment. When TL was tin Konoha with Xemnas, she approached the hedgehog and begged him to train her in the ways of the Fictorian. TL managed to come to an agreement with Hiashi and the two left with Hanabi. TL originally tried distancing himself from Hanabi, because he didn't like traitors at that time. However, the two grew closer in the two years, becoming good friends and eventually to best friends. The two even had feelings between them. TL took Hanabi to Fictor for the final stage of her training, which was held in a room close to the Imagination River, so TL's power was increased dramatically. TL defeated Hanabi, but barely. He passed her, because it took more than a victory to win. TL then exposed Hanabi to the Imagination River, making her part Fictorian.
Powers/Weapons: Byakugan, enhanced power while with TL, able to sense what a person is thinking, their intentions, and what they're feeling.
First appeared in: Naruto
Gabriel Grey "Sylar"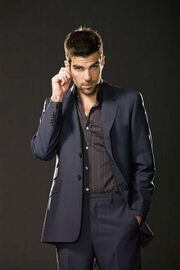 Originally a murderer who stole his victims powers because of the ability to see how things work. Gabriel Grey was raised as a watchmaker, like his "father", and wanted nothing more than to be special. A geneticist named Chandra Suresh approached him and said that he had abilities...which Suresh quickly thought was false. Gabriel, in a fury, invited a man on Chandra's list over to his house and killed him, taking his power of telekinesis. After a while, Gabriel shed his name, taking up the name "Sylar". He tried to destroy New York, but was stabbed by the time and space bender, Hiro Nakamura. It took eight surgeries for a group known simply as the Company to bring him back. He found that he couldn't use his powers after the experience. He went to Chandra's son, Mohinder, to restore his powers. He did. Sylar fled. He then went to the house of Claire Bennet, a healing cheerleader, and took her powers. He temporarily joined the Company and Pinehearst, but returned to his murderous ways. After being killed, Drake revived him with a business proposition for greater power. Sylar wasn't fooled, because he had the power to tell when people were lying to him. Drake only wanted to use him. He turned on Drake, joining the Author Fighters. When TL left Earth, Sylar followed. He joined the group and tried to work on his hunger for abilities. He's left the group on more than one occassion, but always returned.
Powers/Weapons: Telekinesis, enhanced healing factor, creation of organic ice, radioactivity, precognition, electrical projection, hypervoice, and able to sense deception.
First appeared in: Heroes
Rattrap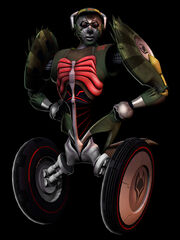 A Transformer from the planet Cybertron and TLSoulDude's first summoning Hero. He went to Prehistoric Earth, being led by Optimus Primal. He's a born pessimist who's main line is "We're all gonna die!" He was one of the few Maximals who made it back to Cybertron, but got blasted by some mysterious virus that kept him in the form of his beast mode--a rat. Even when the Matrix reformatted him, he still couldn't transform, because he was impatient. When he could, he found that he was better for inventing than fighting. During the final battle on Cybertron, he developed...mutual feelings for the plant transformer Botanica. With the sacrifice of Optimus Primal, order was returned to Cybertron. When TL, Xem, Hanabi, and Sylar entered, TL made an offer for Rattrap to join Team Wanderer. He accepted and has become the brains of the outfit.
Powers/Weapons: Enhanced intelligence, slight shapeshifting (able to change into a rat and a robot).
First appeared in: Beast Wars
Ratchet and Clank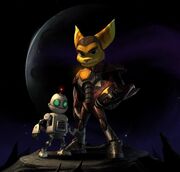 Ratchet, the last of his kind for unknown reasons. Clank, the robot master of the big-screen. Together? The heroes of the galaxy...who get no credit. Ratchet wields a wide variety of guns and Clank has functions to hover. They saved the universe from the robotic psychopath, Dr. Nefarious. Ratchet gained feelings for his comrade, Sasha, and she had feelings for him. However, when TL and his group arrived, Ratchet accepted their offer to join...and thwarted Clank's movie ideas.
Powers/Weapons: Wide variety of firearms and high-tech weaponry.
First appeared in: Ratchet & Clank
Sasuke Uchiha
A member of the near-extinct Uchiha clan, Sasuke's clan was killed by his older brother, Itachi. Blinded by his hunger for power, he soon joined the rogue ninja, Orochimaru. Both TLSoulDude and Dimensiondude had encounters with Sasuke. Dimensiondude fought the Uchiha twice, losing the first time and trumping him the second. TL drew with Sasuke, vowing that their destinies would be intertwined. If he only knew. When Team Wanderer arrived in an alternate Konoha, the Fictorian Hedgehog's first reaction to Sasuke was to invite him. He joined reluctantly. He struck up a close friendship with Sylar, seeing as they both wished for more power.
Powers/Weapons: Advanced ninja skills, Sharingan Eyes, and Chidori.
First appeared in: Naruto
Team Chaotix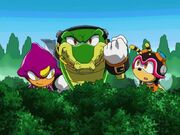 Vector the crocodile, Espio the Chameleon, and Charmy the Bee. TOGETHER, they are Team Chaotix, the top detectives in Mobius. Vector has led the group through several comical missions, while Espio gets them out of tight situations and Charmy...often makes it worse. TL and the rest of Team Wanderer arrived on Mobius and they stowed away. By the time TL and the rest found out they were there...it was a little too late. Despite their relative goofiness, their skills have often been the difference between victory and defeat for the group.
Powers/Weapons: (Vector) Enhanced strength and able to breathe fire. (Espio) Advanced ninja skills and invisibility. (Charmy) Flight, stinger acts as a weapon, and able to open portals through mechanical flowers.
First appeared in: Sonic X
The Hulk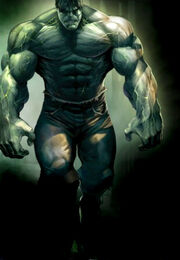 Bruce Banner was doused in Gamma Radiation and survived. However, every time he gets angry, he changes into a giant, green monster! Team Wanderer found the Hulk and, through unexplained methods, managed to tame him. However, they decided against sending him into the field and use him in security.
Powers/Weapons: Enhanced strength, speed, and stamina, accelerated healing factor, and gets stronger whenever he gets angrier.
First appeared in: The Incredible Hulk
Marvin the Robot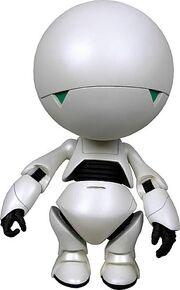 Marvin was a robot who worked on a spaceship. When it was destroyed, however, Team Wanderer picked him up. However, there is ONE thing about him: he's constantly depressed. Nothing cheers him up.
Powers/Weapons: None, but is effective when wielding the Point-of-View Gun.
First appeared in: The Hitchhiker's Guide to the Galaxy
Kazemon
The legendary warrior of wind in the Digital World. Long ago, she and a group of other compainions defeated the evil Lucemon, but went into a state of hibernation. However, a certain Zoe Orimoto awakened her spirit and allowed her to transform. After defeating Lucemon again, the spirits of fire, water, wind, earth, steel, light, darkness, thunder, ice, and wood were revived. She followed Agunimon, who led the warriors until the Digital World was brought into a new age of peace. The two soon developed mutual feelings for each other and entered a relationship. Team Wanderer soon arrived and told Agunimon that the universe outside the Digital World was in danger. He wanted to go, but Kazemon stopped him, telling him that Digital World needed him. She went in his stead.
Powers/Weapons: Able to control wind and use it as a weapon as well as flight.
First appeared in: Digimon Frontier.
Kenshin Himura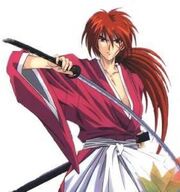 A Rurouni samurai with amazing skills. TL and co. found him while stopping for a rest in a dojo. TL said that they were just moving along and, next thing you know, he was one of their travelling companions.
Powers/Weapons: Katana and ability to move so fast that he can't be seen.
First appeared in: Rurouni Kenshin
Rukia Kuchiki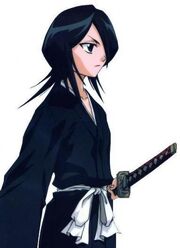 A member of the Soul Society and Soul Reaper with the power of bankai. You can only imagine Rukia's surprise when she found that every member of Team Wanderer could see her (mostly because they're not from her world). Upon sparring, she found an equal match in Kenshin and considers him a rival. She joined the team mainly out of curiosity for what lay beyond her own world.
Powers/Weapons: Above average sword-fighting skills, extensive knowledge of the Soul Society, able to achieve bankai, and various soul-based spells.
First appeared in: Bleach
Rorschach
Originally Walter Kovacs, but became Rorschach after seeing the fate of a kidnap victim he was trying to rescue and member of the Watchmen. He was apparently killed when he threatened to reveal a plan that would destroy the known world. How he survived is a mystery. TL met the vigilante in McDonald's and tried asking him to join...but nearly got a fork in his hand. Rorschach followed the team and joined...against his will, of course.
Powers/Weapons: No powers, but can use a variety of fighting styles and is a master of improvisation. He can break the fourth wall, though it's only in somewhat comic moments.
First appeared in: Watchmen
Genie of the Lamp
The Genie of the Lamp, one of the most whimsical beings in the universe. He has nearly-infinite semi-cosmic capabilities. He can do anything...except kill people, make people fall in love, or bring people back from the dead. Xem let Genie onto the team without consulting TL, but the Fictorian let it go.
Powers/Weapons: Near infinite magic capabilities and inability to die.
First appeared in: Disney's Aladdin
Ad blocker interference detected!
Wikia is a free-to-use site that makes money from advertising. We have a modified experience for viewers using ad blockers

Wikia is not accessible if you've made further modifications. Remove the custom ad blocker rule(s) and the page will load as expected.