Wireless Weather Forecaster 5-day forecasts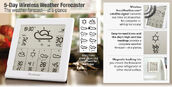 If your one of those people that needs to check the weather on a daily or on an hourly basis, then this item would be your savior. It is a wireless forecaster that provides you with up-to-date weather reports every fifteen minutes. You can take it on the go or leave it in your house. It shows you the current highs and lows (temperature), conditions, a miniture icon showing sunshine, rain, snow, etc., as well as the weather forecast for the next four days. It includes a magnet so you can post it on your refridgerator. You can purchase this item at a decently affordable price of $85.00.
Ad blocker interference detected!
Wikia is a free-to-use site that makes money from advertising. We have a modified experience for viewers using ad blockers

Wikia is not accessible if you've made further modifications. Remove the custom ad blocker rule(s) and the page will load as expected.