Ad blocker interference detected!
Wikia is a free-to-use site that makes money from advertising. We have a modified experience for viewers using ad blockers

Wikia is not accessible if you've made further modifications. Remove the custom ad blocker rule(s) and the page will load as expected.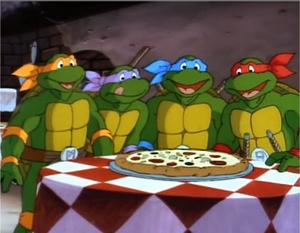 The classic
Teenage Mutant Ninja Turtles
cartoon was aired from 1987 to 1996. A later cartoon was produced and ran from 2003 to 2009. Another currently airs on Nickelodeon and has been since 2012. Before this, they were a comic book.
Characters
Episodes
Parodies
Teenage Mutant Ninja Turtles/Masters of the Universe
Teenage Mutant Ninja Turtles/Streets of Rage
Teenage Mutant Ninja Turtles/Freedom Planet
Teenage Mutant Ninja Turtles/Dragon Ball Z
Teenage Mutant Ninja Turtles/3 Dev Adam
Teenage Mutant Ninja Turtles/Nightmare Ned
Teenage Mutant Ninja Turtles/Dust: An Elysian Tail
Movies