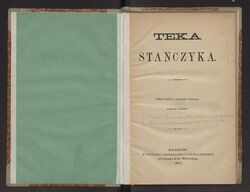 Teka Stańczyka - pamflet o charakterze politycznym, drukowany przez Przegląd Polski w 1869. Wydany w Krakowie w 1870. Autorzy "Teki Stańczyka" to: Józef Szujski, Stanisław Tarnowski, Ludwik Wodzicki i Stanisław Koźmian. Składa się z 20 listów, pisanych przez fikcyjne postacie, opowiadających o sprawach aktualnych. Pamflet ten wywołał silną reakcję w środowiskach, które zostały w nim skrytykowane. Miał znaczący oddźwięk społeczny, mimo że jego wartości literackie są niepokaźne.
Historia
W 1869 r. na łamach założonego trzy lata wcześniej miesięcznika Przegląd Polski zaczęły się ukazywać satyryczne listy, składające się na cykl zatytułowany "Teka Stańczyka". Listy utrzymane były stylu korespondencji antycznej, a ich "autorzy" i "adresaci" nosili satyryczne imiona: Brutusik, Sycyniusz - trybun ludowy, Liberiusz Bankrutowicz - kandydat do parlamentu, Sprycimir - dziennikarz, Trwóżnicki - urzędnik bankowy, czy Aldona - kobieta polityczna. Pod owymi pseudonimami ukrywali się Stanisław Koźmian, Stanisław hr. Tarnowski i Józef Szujski. Tak samo łatwo rozszyfrować miejsca akcji: Tygrysów to Lwów, Kraków - Gawronów, Chaopolis - Wiedeń .
Listy miały skrytykować idee powstańcze obecne wciąż w głowach demagogów, ośmieszyć tzw. tromtadrację, polegającą na nieustannym i jałowym celebrowaniu rocznic i obchodów narodowych - przeciwstawiając temu wszystkiemu ideę patriotyzmu rozumnego i odpowiedzialnego. Zdaniem autorów "Teki", zrywy niepodległościowe wynikały z polskiej skłonności do anarchii. Stało to w opozycji do pozytywistów warszawskiej szkoły historycznej, konserwatyści propagowali bowiem politykę lojalności wobec państw zaborczych (głównie Austrii).
Hasła pokrewne
Linki zewnętrzne
---
Ad blocker interference detected!
Wikia is a free-to-use site that makes money from advertising. We have a modified experience for viewers using ad blockers

Wikia is not accessible if you've made further modifications. Remove the custom ad blocker rule(s) and the page will load as expected.