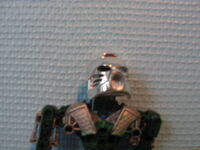 Telepatian naamiolla voi keskustella kenen kanssa tahansa telepaattisesti, kunhan tietää missä kyseinen henkilö on. Naamio antaa myös muita telepaattisia kykyjä.
Naamioita on varmasti enemmänkin olemassa, mutta yksi oli Henkalla, hänen eliitti toa aikanaan. Henkalla oli omalaatuinen kyky vaihtaa naamionsa muotoa. Hän piti sitä usein todellisuuden naamion muotoisena kadotetun naamion muistoksi.
Naamio sulautui Henkan naamaan tämän mutatoituessa. Nyt Henkka voi tarraamalla kenen tahansa päähän hampaillaan, saada kaikki kyseisen henkilön muistot ja ajatukset.
Ad blocker interference detected!
Wikia is a free-to-use site that makes money from advertising. We have a modified experience for viewers using ad blockers

Wikia is not accessible if you've made further modifications. Remove the custom ad blocker rule(s) and the page will load as expected.