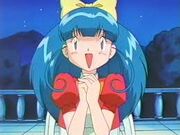 Temacu is one of the following girls that Brock is frightened of appearing in The Heartbreak of Brock. She has blue hair with a yellow bow on top and blue eyes. Her main outfit is composed of: a. At her age, she is 16 years old. She is voiced by Kerry Williams (who makes her sound like Rebecca Hawkins from Yu-Gi-Oh!).
Family
Temacu's Father (Father)
Unnamed Doctor (Love Interest)
Brock (Biggest Fan)
Likes
 ???
 ???
 ???
Dislikes
 ???
 ???
 ???