Ad blocker interference detected!
Wikia is a free-to-use site that makes money from advertising. We have a modified experience for viewers using ad blockers

Wikia is not accessible if you've made further modifications. Remove the custom ad blocker rule(s) and the page will load as expected.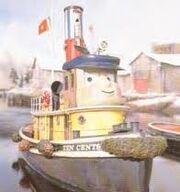 Ten Cents
is a character from
TUGS
. He is the first member of the Star Fleet. He is voiced by
Simon Nash
. In
Salty's Lighthouse
, he is voiced by
Ian James Corlett
.
Trivia
His model was bought by the Star Tugs Trust.
Counterparts (Boy Version) (Hero Version)
Doug Funnie (Doug)
Rocky (Chicken Run)
Wallace (Wallace and Gromit)
Zorro (The Legend Of Zorro)
Raoul (The Phantom Of The Opera)
Frankie Valli (The Jersey Boys)
Link Larden (Hairspray)
Danny (Grease)
Roland Rat (Roland Rat)
Sooty (The Sooty Show)
Austin Powers (Austin Powers)
Bobby Hill (King of the Hill)
Stan Smith (American Dad)
Captain Crandell (Teamo Supremo)
Timmy Turner (The Fairly Oddparents)
Danny Fenton (Danny Phantom)
Jimmy Neutron (Jimmy Neutron)
Darwin (The Wild Thornberrys)
RJ (Over the Hedge)
Ron Stoppable (Kim Possible)
Brick (The Powerpuff Girls)
Crash Bandicoot (Crash Bandicoot)
Raimundo Pedrosa (Xiaolin Showdown)
Robin (Teen Titans)
Theodore Jasper "TJ" Detweiler (Recess)
Gordy Rhinehart (Angela Anaconda)
Connor (Cubix: Robots For Everyone)
P.J. Duncan (Good Luck Charlie)
Adult Simba (The Lion King)
Baloo (Talespin)
Lightning McQueen (Cars 1 & 2)
Numbuh 1 (Codename: Kids Next Door)
Noddy (Noddy's Toyland Adventures)
Postman Pat (Postman Pat)
Fireman Sam (Fireman Sam)
Ax-Battler (Golden Axe)
Axel Stone (Streets of Rage)
Spike (My Little Pony: Friendship is Magic)
Starfy (The Legendary Starfy)
Hobbes (Calvin and Hobbes)
Pinocchio (Pinocchio and the Emperor of the Night)
Stanley (A Troll in Central Park)
Jiminy Cricket (Pinocchio)
Alvin (Alvin and the Chipmunks)
Fone Bone (Bone)
Mushu (Mulan)
Pig (Pearls Before Swine)
Jay Jay (Jay Jay the Jet Plane)
Satchel (Get Fuzzy)
Spyro the Dragon (Spyro the Dragon/Skylanders)
Fred Flintstone (The Flintstones)
Casey Jr. (Casey Jr. and Friends)
Diggs the Backhoe Loader (Construction Site)
Jin Kazama (Tekken)
Ferry Boat Fred (Ferry Boat Fred)
Rupert Bear (Rupert)
Emmet (The LEGO Movie)
Willy the Bee (Maya the Bee/Movie)
Counterparts (Girl Version)
Rosie (Thomas the Tank Engine and Friends)
Sally Seaplane (TUGS/Salty's Lighthouse)
Pugwash (Theodore Tugboat)
Tanya Cupper (Shining Time Station)
Princess Sally Acorn (Sonic the Hedgehog)
Lanolin Sheep (Garfield and Friends)
Babs Bunny (Tiny Toon Adventures)
Lisa Simpson (The Simpsons)
Meg Griffin (Family Guy)
Wendy Testaburger (South Park)
Isabella Garcia Shapiro (Phineas and Ferb)
Yo (Fanboy and Chum Chum)
Numbuh 362 (Codename: Kids Next Door)
Tessie Bear (Noddy's Toyland Adventures)
Teddy Duncan (Good Luck Charlie)
Princess Sherry (Rocket Knight Adventures)
Tiff (Kirby)
Buneary (Pokemon)
Jemima Puddle-Duck (The World Of Peter Rabbit and Friends)
Sergeant Calhoun (Wreck-it Ralph)
Counterparts (Villian Version)
Diesel (Thomas the Tank Engine and Friends)
Zorran (TUGS)
Sea Rogue (Salty's Lighthouse)
Oliver (Theodore Tugboat)
Mr. Conductor's Evil Twin (Shining Time Station)
Waluigi (Super Mario Bros.)
Scourge the Hedgehog (Sonic the Hedgehog)
The Weasel (Garfield and Friends)
Montana Max (Tiny Toon Adventures)
Mr. Burns (The Simpsons)
Stewie Griffin (Family Guy)
Dr Heinz Doofenshmirtz (Phineas and Ferb)
Mitch (Good Luck Charlie)
Axel Gear (Rocket Knight Adventures)
Escargoon (Kirby)
Mewtwo (Pokemon)
Dark Link (The Legend of Zelda)
Parodies
Gallery