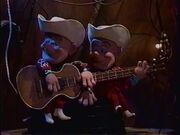 Tex and Rex are identical and inseparable twins who remain cowboys at heart.
Tex is voiced by Wayne White (Season 1) and Alan Semok (Season 2 onwards), with Rex voiced by Craig Marin.
Trivia
In the episode Sweet and Sour, Rex and Tex say that their first job was in a bank's radio.
They also had a job in a music box as seen in the episode Billy's Runaway Train.
Counterparts
Silas Wonder's Minions (Tiny Toon Adventures)
Louie and Legs (The Simpsons)
Tyranitar and Rhydon (Pokemon)
Boost and Snot Rod (Cars)
Science Cat and Shark (Adventure Time)
Touch and Go (Teenage Mutant Ninja Turtles)
Decoe and Bocoe (Sonic the Hedgehog)