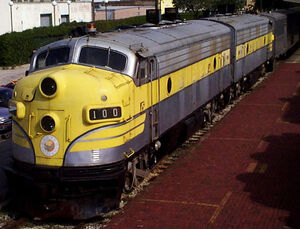 Texas Limited #100 (ex-Entertainment Trains, Inc., exx-Louisiana & North West, exxx-Southern Pacific #6379) and #200 (ex-Entertainment Trains, Inc., exx-Louisiana & North West, exxx-Wellsville, Addison & Gales, exxxx-Pinsley shortline, exxxxx-Southern Pacific #6309) are both F7A (with cabs) units built by General Motors' Electro-motive Division. #100 bears builder's number 3112B2F and #200 bears number 3039A14. This duo heads the Texas Limited passenger train which made runs to and from Houston until track speed restrictions and liability insurance costs ended operations. The engines are back to back, allowing the engines to run around the consist when a destination is reached and have a cab end facing forward for the return trip. The engines can also be separated and operate in a push-pull mode, with one engine on each end of the train.
There is an odd history about #100. The frame number (stamped in the metal below the air hoses on the back end of each unit), #3112B2F, is supposed to have been Chicago & Northwestern F7B (without cab) #4092, built in July 1952, not a Southern Pacific A unit. It is speculated that the frames were mixed up at the factory before assembly. CNW 4092B was scrapped in 1976.
Ad blocker interference detected!
Wikia is a free-to-use site that makes money from advertising. We have a modified experience for viewers using ad blockers

Wikia is not accessible if you've made further modifications. Remove the custom ad blocker rule(s) and the page will load as expected.