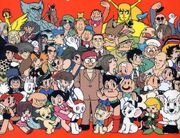 Tezuka Osamu Productions Co., Ltd. (株式会社手塚プロダクション Kabushiki-gaisha Tezuka Purodakushon?) is a Japanese animation studio founded by Tezuka Osamu in 1968. It is known for animating notable works such as Marvelous Melmo, the 1980 and 2003 Astro Boy series, and Black Jack. His son, Macoto Tezuka, currently aims to use Tezuka Productions to extend Tezuka's manga series with new issues and publish posthumous works such as Legend of the Forest.
Parodies (Don't delete, but you can add some more)
Ad blocker interference detected!
Wikia is a free-to-use site that makes money from advertising. We have a modified experience for viewers using ad blockers

Wikia is not accessible if you've made further modifications. Remove the custom ad blocker rule(s) and the page will load as expected.