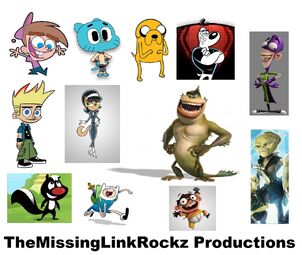 TheMissingLinkRockz
LIST OF MOVIES/TV/VIDEOGAMES SO FAR:
6Teen
Adventure Time
Aladdin
Aladdin 2: The Return of Jafar
Aladdin 3: Aladdin and the King of Thieves
Aliens in the Attic
The Amazing World of Gumball
Ben 10
Ben 10: Alien Force
Ben 10: Ultimate Alien
Bin Weevils
Brother Bear
Brother Bear 2
Bump in the Night
Cars
Cars 2
Class of 3000
Class of the Titans
Dinosaur
Dinosaur King
Disney Shorts
Fanboy and Chum Chum
Galaxy Goofs-Up
Generator Rex
Gnomeo and Juliet
Hercules
Hey There It's Yogi Bear
How to Train Your Dragon
Hi Hi Puffy AmiYumi
Hokey Wolf
Hop (2011)
The Huckleberry Hound Show
Ice Age
Ice Age 2
Ice Age 3
Igor
Johnny Test
The Jungle Book
The Jungle Book 2
Kung Fu Panda
Kung Fu Panda 2
Lady and the Tramp
Lady and the Tramp 2: Scamp's Adventures
Lilo and Stitch
Lilo and Stitch 2
Leroy and Stitch
Looney Tunes
Looney Tunes: Back in Action
MAD (2010)
Madagascar
Madagascar: Escape 2 Africa
Megamind
Monsters vs Aliens
Mucha Lucha!
Mulan
Mummy Nanny
Open Season
Open Season 2
Open Season 3
Regular Show
Rock-A-Doodle
Pet Alien
Peter Pan
Planet 51
Rio (2011)
Samurai Jack
Skunk Fu
Stoked
Space Chimps
Space Chimps 2
Space Jam
Teen Titans
The Avengers: Earth's Mightiest Heroes
The Lion King
The Little Mermaid
The Looney Tunes Show
The Many Adventures of Winnie the Pooh
The Super Hero Squad Show
The Sword in the Stone
Teen Titans
T.U.F.F. Puppy
Up (2009)
WALL-E
Wolverine and the X-Men
X-Men
X-Men Evolution
Yam Roll
Yin, YAng, Yo
The Yogi Bear Show
Yogi Bear
Yogi's Ark Lark
Yogi's First Christmas
Yogi's Gang
Yogi's Treasure Hunt
Yogi's Space Race
Yogi the Easter Bear

A LIST OF PARODIES
MY FAVORITE CHARACTER:
The Missing Link (Monsters vs Aliens)
Tazer (Aliens in the Attic) (The Missing Link's Girlfriend)
Ham II (Space Chimps)
Beast Boy (Teen Titans)
WALL-E and EVE (WALL-E)
Gumball (The Amazing World of Gumball)
Edmond and Patou (Rock-A-Doodle)
Humungousaur (Ben 10 Ultimate Alien)
Skunk and Fox (Skunk Fu)
Wolverine (X-Men Evolution)
Timmy Turner
Johnny Test
Fanboy and Chum Chum
Dudley Puppy and Kitty Katswell (T.U.F.F. Puppy)
Ad blocker interference detected!
Wikia is a free-to-use site that makes money from advertising. We have a modified experience for viewers using ad blockers

Wikia is not accessible if you've made further modifications. Remove the custom ad blocker rule(s) and the page will load as expected.