This is taken from
A Bunny Christmas 2000 VHS (VF2000's version)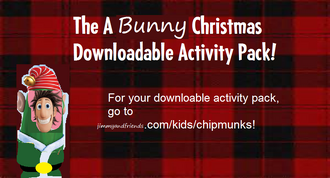 .
Transcript
Flint: Hello. This is me - Merry Flint, head elf of the Spring Valley Mall. When you finish watching the show, go onto www.jimmyandfriends.com/kids/chipmunks to print out the "A Bunny Christmas" downloadable activity pack. Enjoy the show, and purposely use your gift for other people. That means you.
Ad blocker interference detected!
Wikia is a free-to-use site that makes money from advertising. We have a modified experience for viewers using ad blockers

Wikia is not accessible if you've made further modifications. Remove the custom ad blocker rule(s) and the page will load as expected.