See also:
wikipedia:The Amazing World of Gumball
The Amazing World of Gumball at Wikia
---
[
]
Welcome to the The Amazing World of Gumball mini wiki at Scratchpad!
You can use the box below to create new pages for this mini-wiki.
The Amazing World of Gumball (known also as Gumball) is a British-American-Irish children's animated television series created by Ben Bocquelet for Cartoon Network. Produced primarily by Cartoon Network Development Studio Europe, it first aired on May 3, 2011.[2] The series revolves around the life of Gumball Watterson, a 12-year-old[3] cat who attends middle school in the fictional city of Elmore. Accompanied by his adoptive goldfish brother Darwin, he frequently finds himself involved in various shenanigans around the city, during which he interacts with his other family members—sister Anais and parents Nicole and Richard—and an extended supporting cast of characters.
Bocquelet based several of the series' characters on rejected characters from his previous commercial work and making its premise a mixture of "family shows and school shows", which Cartoon Network was heavily interested in. He pitched The Amazing World of Gumball to the network and Turner Broadcasting executive Daniel Lennard subsequently greenlit production of the series. It is the first series to be produced by Cartoon Network Development Studio Europe, and is currently co-produced with Studio SOI and Great Marlborough Productions. One unique feature of the series is its lack of stylistic unity. Characters are designed, filmed, and animated using different styles and techniques (stylised traditional animation, puppetry, photo-realistic CGI, stop motion, Flash animation, live action, etc.)[4]
Episodes

Main article:
List of The Amazing World of Gumball episodes
Characters

Main article:
The Amazing World of Gumball/Characters/Gallery
Parodies

 WARNING: You may add parodies. But, do NOT delete any. Complete parodies list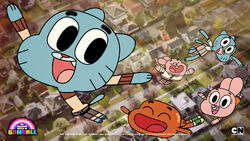 Notes
↑ "The Amazing World of Gumball". Turner Broadcasting. September 9, 2011. Archived from the original on December 2, 2013. https://web.archive.org/web/20131202233656/http://news.turner.com/article_display.cfm?article_id=5805

. Retrieved July 4, 2013

.
↑ 2.0 2.1 "The Amazing World of Gumball". TV Guide. http://www.tvguide.com/tvshows/the-amazing-world-of-gumball/episodes-season-1/325519.
↑ Barba, Jessica; Lach, Dawn; D'Amato, Adrienne (June 2, 2014). "Cartoon Network Doubles Down on Global Hit Series The Amazing World of Gumball" (Press release). Los Angeles and New York City: Turner Press Site. https://pressroom.turner.com/us/cartoon-network/amazing-world-gumball/cartoon-network-doubles-down-global-hit-series-amazing

. Retrieved June 2, 2014

.
↑ Interview with Ben Bocquelet in Toonzone
See also
Ad blocker interference detected!
Wikia is a free-to-use site that makes money from advertising. We have a modified experience for viewers using ad blockers

Wikia is not accessible if you've made further modifications. Remove the custom ad blocker rule(s) and the page will load as expected.