Ad blocker interference detected!
Wikia is a free-to-use site that makes money from advertising. We have a modified experience for viewers using ad blockers

Wikia is not accessible if you've made further modifications. Remove the custom ad blocker rule(s) and the page will load as expected.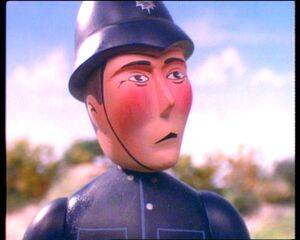 The Angry Policeman is a constable in the
Thomas the Tank Engine and Friends
TV Series. He took over the job when the old Constable retired, and he was not what Thomas expected. He was grumpy and booked Thomas because he didn't have cowcatchers. He then argued with the
Fat Controller
at a station because he didn't like the Fat Controller's equal opportunities policy. Soon the matter was fixed by Toby arriving and ringing his bell at him.
Allies: Diesel, Arry, Bert, Smudger, Spencer, Diesel 10, Splatter, Dodge, D261, D199, Lorry 1, Lorry 2, Lorry 3, George, Bulgy, The Barber, The Station Master, The Station Master's Wife, Bulstrode,
Enemies: Thomas, Edward, Henry, Gordon, James, Percy, Toby, Duck, Donald, Douglas, Oliver, Bill, Ben, BoCo, Stepney, Sir Topham Hatt
The Angry Policeman was never seen after Season 1 in Thomas in Trouble.
Theme
Counterparts
The Vulture Squadron General - Dastardly and Muttley
General Blanque (Teenage Mutant Ninja Turtles)
Parodies
The Angry Policeman/Wacky Races
The Angry Policeman/The Wiggles
The Angry Policeman/Dora the Explorer