LegalizeAnythingMuppets's movie spoof style of "The AristoCats" (1970).
Cast
Duchess - Penny (The Rescuers)
Thomas O'Malley - Cody (The Rescuers Down Under)
Toulouse - John Darling (Peter Pan)
Berlioz - Michael Darling (Peter Pan)
Marie - Wendy Darling (Peter Pan)
Madame Adelaide Bonfamille - Cinderella (Cinderella)
Georges Hautecourt - The King (Cinderella)
Abigail and Amelia - Minnie Mouse and Alice (Mickey Mouse Works and Alice in Wonderland)
Uncle Waldo - White Rabbit (Alice in Wonderland)
Napoleon - Bob the Tomato (VeggieTales)
Lafayette - Larry the Cucumber (VeggieTales)
Roquefort - Jiminy Cricket (Pinocchio)
Scat Cat - King Louie (The Jungle Book)
Chinese Cat - The Cat in the Hat (The Cat in the Hat Animated 1971)
English Cat - Bagheera (The Jungle Book)
Italian Cat - Baloo (The Jungle Book)
Russian Cat - Einstein (Oliver and Company)
Edgar Balthazar - Captain Hook (Peter Pan)
Frou-Frou - Clarabelle Cow (Mickey, Donald & Goofy: The Three Musketeers)
Video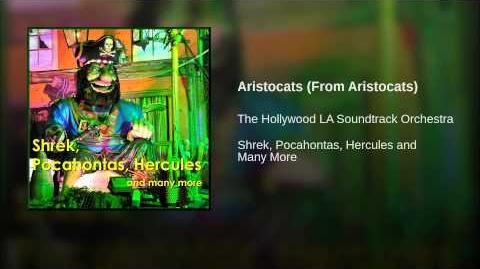 Ad blocker interference detected!
Wikia is a free-to-use site that makes money from advertising. We have a modified experience for viewers using ad blockers

Wikia is not accessible if you've made further modifications. Remove the custom ad blocker rule(s) and the page will load as expected.