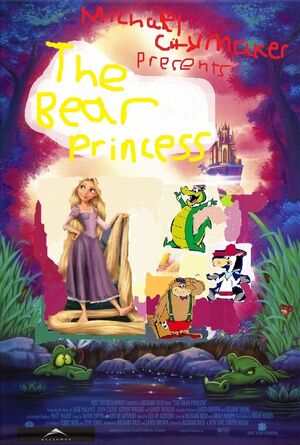 TheCityMaker's movie-spoof of "The Swan Princess". It's the prequel to
The Bear Princess 2
Cast
Baby Odette - Baby Rapunzel (Tangled)
Young Odette - Young Rapunzel (Tangled)
Mid-teen Odette - Eilonwy (The Black Cauldron)
Young Adult Odette - Aurora (Sleeping Beauty)
Adult Odette - Adult Rapunzel (Tangled)
Swan Odette - Cindy Bear
Young Derek - Christopher Robin (Pooh)
Mid-teen Derek - Taran (The Black Cauldron)
Young Adult Derek - Phillip (Sleeping Beauty)
Adult Derek - Flynn Rider (Tangled)
Rothbart - Dr. Facilier (The Princess and the Frog)
Jean-Bob - Wally Gator
Speed - Magilla Gorilla
Puffin - Quick Draw McGraw
Young Bromley - Young Hercules (Hercules)
Adult Bromley - Adult Hercules (Hercules)
Lord Rogers - Geppetto (Pinocchio)
Queen Uberta - Widow Tweed (The Fox and the Hound)
King William - King Stefan (Sleeping Beauty)
Chamberlain - Phoebus (The Hunchback of Notre Dame)
Bridgit the Witch - Esmeralda (The Hunchback of Notre Dame)
The Great Animal - Hydra (Hercules)
Gators in the Moat - Crocodiles (The Rescuers Down Under)
King William's Captain - Wreck-It Ralph (Wreck-It Ralph)
Target Practice Elephant - Burt (The Penguins of Madagascar)
Target Practice Fox - Hokey Wolf
Target Practice Lion - Lippy the Lion
Target Practice Bear - Po (Kung Fu Panda)
Target Practice Moose - Junior the Buffalo (Home on the Range)
Target Practice Stork - Mr. Stork (Dumbo)
Target Practice Boar - Hamm (Toy Story)
Target Practice Duck - Yakky Doodle
Target Practice Rabbit - Richochet Rabbit
Mouse - Doormouse (Alice in Wonderland (1951))
Dragon - Ruber's Griffin (Quest for Camelot)
Fly - Jiminy Cricket (Pinocchio)
Dragonfly - Mantis (Kung Fu Panda)
Rothbart's back-up singers - Marina Del Rey (The Little Mermaid III: Ariel's Beginning), Eris (Sinbad: Legend of the Seven Seas) and Saleen (Aladdin (TV series))
Reptile Rogers - Rex (Toy Story)
Bird Uberta - Audrey (Home on the Range)
Pig Chamberlain - Wilbur (Charlotte's Web)
Monkey Bromley - Bigfoot (A Goofy Movie)
The Singing Men - The Zuckerman's Famous Pig (Charlotte's Web)
The Princesses - Cinderella (Cinderella), Pocahontas (Pocahontas), Tiger Lily (Peter Pan), Segent Calhoun (Wreck-It Ralph), Belle (Beauty and the Beast), Mulan (Mulan), Princess Jasmine (Aladdin), Eep (The Croods), Kayley (Quest for Camelot), Megara (Hercules), Alice (Alice in Wonderland (1951)) and Snow White (Snow White and the Seven Dwarfs)
The Singing Chorus during "Princess on Parade" - The Sailors (The Little Mermaid), Hebrews (The Pince of Egypt), The Card Painters (Alice in Wonderland (1951)) and Indains (Peter Pan)
The Birds in Puffin's Army - Buck (Home on the Range), Spirit (Spirit: Stallion of the Camirron) and Phillipe (Beauty and the Beast)
The Prince that Jean-Bob thought was him - Clopin (The Hunchback of Notre Dame)
The Lady who faints after seeing a frog - Madame BonFamille (The Aristocats)
Cast Video (Remake)
Adult Odette - Rapunzel (Tangled)
Adult Derek - Flynn Rider (Tangled)
Rothbart - Dr. Facilier (The Princess and the Frog)
Great Animal - Hydra (Hercules)
Queen Uberta - Widow Tweed (The Fox and the Hound)
Swan Odette - Cindy Bear
Jean-Bob - Magilla Gorilla
Speed - Wally Gator
Puffin - Quick Draw McGraw
Lord Rogers - Geppetto (Pinocchio)
Chamberlain - Phoebus (The Hunchback of Notre Dame)
Bridget - Esmerelda (The Hunchback of Notre Dame)
Scenes
The Bear Princess part 1 - Prologue
The Bear Princess part 2 - "This is My Idea"
The Bear Princess part 3 - What Else is There?
The Bear Princess part 4 - Dr. Facilier Attacks King Stefan
The Bear Princess part 5 - At Bear Lake
The Bear Princess part 6 - "Practice, Practice, Practice"
The Bear Princess part 7 - 'Assemble for Counting'/Catching Fire
The Bear Princess part 8 - Wally Gator and Magilla Gorilla/"Far Longer Than Forever"
The Bear Princess part 9 - Quick Draw McGraw/Rapunzel and Dr. Facilier's Confrontation
The Bear Princess part 10 - Widow Tweed and Geppetto/Flynn Rider in the Library
The Bear Princess part 11 - "No Fear"
The Bear Princess part 12 - Flynn and Hercules/The Search Begins
The Bear Princess part 13 - It's Not What It Seems
The Bear Princess part 14 - Flynn Finds Rapunzel/Dr. Facilier Confronts Again
The Bear Princess part 15 - Dr. Facilier's Latest Scheme Yet ("No More Mr. Nice Guy")
The Bear Princess part 16 - Where is Hercules?/At Dr. Facilier's Dungeon
The Bear Princess part 17 - At Widow Tweed's Kingdom ("To The Ball")
The Bear Princess part 18 - Quick Draw McGraw's Big Idea/"Princesses on Parade"
The Bear Princess part 19 - The Unexpected Guest
The Bear Princess part 20 - Gator-Aid
The Bear Princess part 21 - In the Ballroom/Rapunzel Flies, Flynn Gallops
The Bear Princess part 22 - Flynn Battles Dr. Facilier
The Bear Princess part 23 - Happily Ever After
The Bear Princess part 24 - End Credits part 1 ("Far Longer Than Forever (End Title)")
The Bear Princess part 25 - End Credits part 2 ("Eternity")
Trivia
During the part of Flynn Battles Dr. Facilier, Dr Facilier as Hydra swallows Flynn. Wally Gator, Magilla Gorilla and Quick Draw McGraw sound like Phil, Rapunzel sounded like Meg and Flynn sounded like Hercules.
Ad blocker interference detected!
Wikia is a free-to-use site that makes money from advertising. We have a modified experience for viewers using ad blockers

Wikia is not accessible if you've made further modifications. Remove the custom ad blocker rule(s) and the page will load as expected.