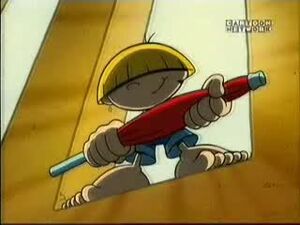 The Beetle King is my parody with footage from Cartoon Network's Codename: Kids Next Door & audio from Disney's Lion King.

PLEASE DON'T EDIT!
Cast:
Wally = Simba
Kuki = Nala
Nigel = Timon
Hoagie = Pumbaa
Abby = Rafiki
Mr. Beetles = Mufasa
Mrs. Beetles = Sarabi
Mrs. Sanban = Sarafina
Matt (see Operation: ZERO) = Zazu
Toiletnator = Scar (the Toiletnator is Wally's uncle)
Delightful Children = Hyenas
Rachel = Timon's Ma
Harvey = Uncle Max
Sonya = Kiara
Lee = Kovu
Fanny = Zira
Patton = Nuka
Katie (see Operation: UTOPIA) = Vitani DON'T MAKE ANY CHANGES! I'LL BE CHECKING!