Jimmyandfriends's movie-spoofs of "The Hunchback of Notre Dame"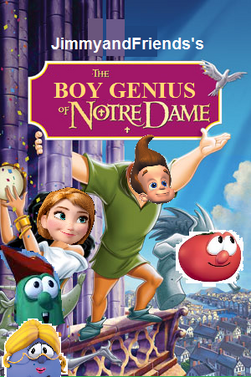 Cast:
Jimmy Neutron as Quasimodo
Anna (Frozen) as Esmeralda
Kristoff (Frozen) as Phoebus
Larry the Cucumber (VeggieTales) as Hugo
Bob the Tomato (VeggieTales) as Victor
Madame Blueberry (VeggieTales) as LaVerne
Hans (Frozen) as Frollo
Maximus (Tangled) as Djalih
Sven (Frozen) as Achilles
Kermit the Frog (Muppets) as Clopin
Robin the Frog (Muppets) as Puppet Clopin
Sebastian (The Little Mermaid) as Archdeacon
Little Bird (Sesame Street) as Bird with Quasimodo
Judy Neutron (The Adventures of Jimmy Neutron) as Quasimodo's Mother
The Duke of Weselton's Guards (Frozen) as Guard Leaders
Ad blocker interference detected!
Wikia is a free-to-use site that makes money from advertising. We have a modified experience for viewers using ad blockers

Wikia is not accessible if you've made further modifications. Remove the custom ad blocker rule(s) and the page will load as expected.