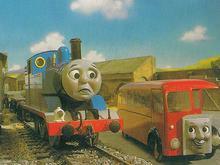 The Bumpy Line is the seventh book of The Railway Series Continues.
Previous Book: Nothing to Worry.
Next Book: Something's Up to The Railway.
Message
Dear Friends,
I had been watching episodes form ITV in 1991 ever since they were released in the past, i see Thomas getting bumped on his branch line, Edward and Trevor hosting up a garden party for the Vicar of Vicarstown, Duck making a wish if he was a horizon engine and see Percy breaking the rules after a switch failure. I hope both he and James learnt a lesson about the "nothing should stop us engines" subject after the punishment for making such a silly situation.
Your Friend, The Author.
Stories
Thomas is afraid of Bertie taking his passengers when a bump on the line has happened.
Edward and Trevor make preparations when a garden party is being hosted.
Duck makes a wish to be a horizon engine.
When James breaks down, Percy comes to the rescue with a goods train of fruit from Market Day, and he thinks they are "nothing-that should stop us" engines.
Characters
Thomas
Edward
James
Percy
Harold
Duck
Bertie
Trevor
Terence
The Vicar
The Fat Controller
Diesel
Mrs. Kyndley (cameo)
Jem Cole (not named)
Stephen and Bridget Hatt (cameo)
Dowager Hatt (cameo)
Gordon (cameo)
Henry (cameo)
Donald and Douglas (cameo)
Farmer Trotter (cameo)
The injured man (does not speak)
Troublesome Trucks (cameo)
Lady Hatt (cameo)
Trivia
This book is adapted from so many things:

This book is adapted with Thomas Gets Bumped by Britt Allcroft and David Mitton and Hello Thomas! and A Pump on the Line by Andrew Brenner.
This book adapted with All at Sea and Edward, Trevor and the Really Useful Party by Britt Allcroft and David Mitton
This book is adapted with Percy, James and the Fruitful Day by David Mitton and Percy gets Jammed by Andrew Brenner.

This is the first book to be adapted from four episodes from the television series and magazines by Andrew Brenner, unlike The Railway Series or any other books from the series.
Story Gallery
Ad blocker interference detected!
Wikia is a free-to-use site that makes money from advertising. We have a modified experience for viewers using ad blockers

Wikia is not accessible if you've made further modifications. Remove the custom ad blocker rule(s) and the page will load as expected.