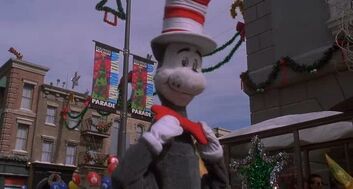 The Cat in the Hat was released as a 1971 special and a 2003 feature film, both based on the original 1957 novel by Dr. Seuss.
Release Dates
TV Special
March 10, 1971
May 10, 1989 (Playhouse Video)
April 19, 1994 (Sing-Along Classics)
1997 (Fox Kids Video)
October 7, 2003 (DVD)
September 27, 2005 (DVD re-release)
December 2006 (edited version on ABC Family)
August 7, 2012 (Blu-ray Disc)
The Film
November 21, 2003
March 16, 2004 (VHS/DVD)
February 7, 2012 (Blu-ray Disc)
Parodies
Ad blocker interference detected!
Wikia is a free-to-use site that makes money from advertising. We have a modified experience for viewers using ad blockers

Wikia is not accessible if you've made further modifications. Remove the custom ad blocker rule(s) and the page will load as expected.