Ad blocker interference detected!
Wikia is a free-to-use site that makes money from advertising. We have a modified experience for viewers using ad blockers

Wikia is not accessible if you've made further modifications. Remove the custom ad blocker rule(s) and the page will load as expected.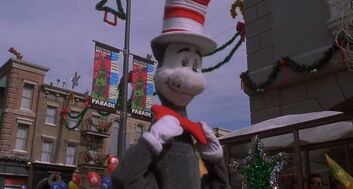 The Cat in the Hat was released as a 1971 special and a 2003 feature film, both based on the original 1957 novel by Dr. Seuss.
Release Dates
TV Special
March 10, 1971
May 10, 1989 (Playhouse Video)
April 19, 1994 (Sing-Along Classics)
1997 (Fox Kids Video)
October 7, 2003 (DVD)
September 27, 2005 (DVD re-release)
December 2006 (edited version on ABC Family)
August 7, 2012 (Blu-ray Disc)
The Film
November 21, 2003
March 16, 2004 (VHS/DVD)
February 7, 2012 (Blu-ray Disc)
Parodies