Jimmyandfriends's movie-spoofs of "The Muppets"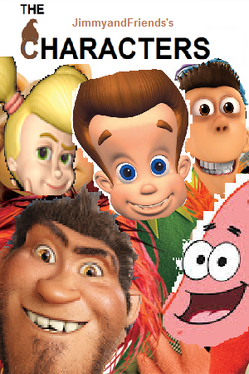 Cast:
The Once-Ler (The Lorax) as Gary
Honey Lemon (Big Hero 6) as Mary
Eggs (The Boxtrolls) as Walter
E.B. (Hop) as Kermit the Frog
Yin (Yin Yang Yo!) as Miss Piggy
Alex The Lion (Madagascar) as Fozzie Bear
Yang (Yin Yang Yo!) as Gonzo
Jafar (Aladdin) as Tex Richman
Jasmine (Aladdin) as Veronica
Classified (Penguins Of Madagascar (2014)) as Rowlf
Bugs Bunny (Looney Tunes) as Scooter
Robin Hood (Robin Hood (1973)) as Dr. Teeth
Boog (Open Season) as Animal
Tigger (Winnie The Pooh) as Floyed Pepper
Tigeress (Kung Fu Panda) as Janice
Scuttle (The Little Mermaid) as Zoot
King Julien (Madagascar) as Pepe the King Prawn
Dr. Cockroach P.H.D. (Monsters vs. Aliens) as Bunsen Honeydew
Rango as Beaker
Lina (Yin Yang Yo!) as Camilla the Chicken
Baloo (The Jungle Book) as Sweetums
Pooh Bear and Rabbit (Winnie The Pooh) as Statler and Waldorf
Squidward Tentacles (SpongeBob SquarePants) as Sam the Eagle
Sid (Ice Age) as Lew Zealand
Horton The Elephant (Horton Hears A Who!) as The Swedish Chef
Elliot (Open Season) as Beauagard
Bloo (Foster's Home for Imaginary Friends) as Rizzo the Rat
Ad blocker interference detected!
Wikia is a free-to-use site that makes money from advertising. We have a modified experience for viewers using ad blockers

Wikia is not accessible if you've made further modifications. Remove the custom ad blocker rule(s) and the page will load as expected.