Ad blocker interference detected!
Wikia is a free-to-use site that makes money from advertising. We have a modified experience for viewers using ad blockers

Wikia is not accessible if you've made further modifications. Remove the custom ad blocker rule(s) and the page will load as expected.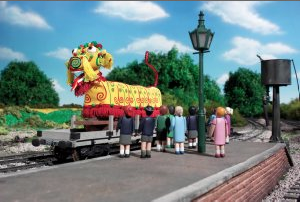 The Chinese Dragon
is a scary dragon from
Thomas and Friends
. It is a dragon made of paper-mache especially for carnivals. When
Thomas
was sent to collect it from Brendam Docks, he was surprised at its appearance, until his driver explained that, being made of paper-mache, it could do no harm. Unfortunately,
Percy
, who was stuck on a siding that same night, did not realize this, and was scared as Thomas passed by him. The next day, Percy saw the dragon at Elsbridge Station, but Thomas explained to Percy about the Dragon and the carnival it was for, relieving him.
The Chinese Dragon can be lit up from the inside to become illuminated. Since Season 10, the Chinese Dragon can move its head and dance about.
Appearances in the Television Series
Season 3 - Thomas, Percy, and the Dragon
Season 10 - Percy and the Funfair
Season 11 - Thomas and the Lighthouse
Merchandise
Ertl
Wooden Railway
Take-Along
Tomy/Trackmaster
Wind-up Trains
Theme
The Chinese Dragon's theme is its theme from the Season 3 episode, Thomas, Percy, and the Dragon.
Counterparts
The Ghostly Galleon (TUGS)
Snorri or The Sea Monster (Theodore Tugboat) 
The Gruesome Twosome's Dragon (Wacky Races)
Smokey the Dragon (Diddy Kong Racing)
Red Gyarados (Pokemon)
The Screamin' Banshee (Mater and the Ghostlight; spinoff of Cars) 
The Bear (The Fox and The Hound)
The Bird (A Bug's Life)
Sharptooth or Giganotosaurus (The Land Before Time)
Egg Golem,Perfect Chaos, Lyric, Krang, or Godzilla (Sonic the Hedgehog)
Tikimon (Crash Bandicoot)
Godzilla or King Ghidorah (Godzilla)
Lumpjaw (Fun and Fancy Free)
Reflux (Monster Form) (Rayman)
Gargantua Blargg (Super Mario Bros.)
Tiki Tong (Donkey Kong Country)
V-Rex (King Kong)
V-Rex/T-Rex (Kenny and the Lost World)
Serpent (Veggie Tales)
The Anaconda (Anaconda)
Black Jaguar (Rio 2)
The Rhedosaurus (The Beast from 20,000 Fathoms)
Gwangi (The Valley of Gwangi)
The Kaftar (Cabela's Dangerous Hunts 2011: both are scary)
The Black Knight Ghost's Horse (Scooby Doo 2: Monsters Unleashed)
Tiger Shark (Wild Kratts)
Energy Monster (Wordgirl)
MartinandChrisasaurus (Zoboomafoo)
Terror Bird 1 (10,000 BC (2008))
Spinosaurus (Jurassic: The Hunted)
Gallery