Jimmyandfriends's TV-spoof of "The Fairly Oddparents"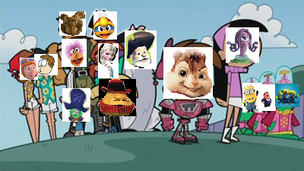 Cast:
Alvin Seville (Alvin and the Chipmunks) as Timmy Turner (They both wear hats all the time)
Buzz Lightyear (Toy Story) as Cosmo
Jessie (Toy Story) as Wanda
Mr. Lunt (VeggieTales) as Chester
Pa Grape (VeggieTales) as A.J.
Mr. Bunny (Hop) as Jorgen Von Strangle
E.B. (Hop) as Chip Skylark
Elsa (Frozen) as Vicky the Babysitter
Episodes
Ad blocker interference detected!
Wikia is a free-to-use site that makes money from advertising. We have a modified experience for viewers using ad blockers

Wikia is not accessible if you've made further modifications. Remove the custom ad blocker rule(s) and the page will load as expected.