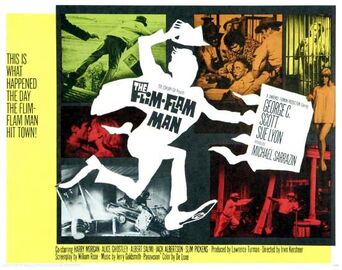 The Flim-Flam Man
is a 1967 American Slapstick Car Chase
Comedy film
directed by
Irvin Kershner
, starring
George C. Scott
,
Mickey Rooney
,
Phil Silvers
,
Tim Conway
,
Don Knotts
,
Herschel Bernardi
,
The Three Stooges
,
Abbott and Costello
,
Buddy Hackett
,
Michael Sarrazin
,
Sue Lyon
,
Ethel Merman
,
Mel Brooks
,
Jonathan Winters
,
Henry Winkler
,
Terry Thomas
,
Benny Hill
,
Carl Reiner
,
Paul Ford
,
Alan Arkin
,
Peter Falk
,
Jack Benny
,
Dean Martin
,
Jerry Lewis
and
Zero Mostel
, based on the Novel
The Balled of the Flim-Flan Man
by
Guy Owens
. The film boasts a cast of well-known character actors in supporting roles, including
Jack Albertson
,
Slim Pickens
,
Strother Martin
,
Harry Morgan
and
Albert Salmi
. The movie is also noted for its jovial musical score by composer
Jerry Goldsmith
.
Plot Summary
Mordecai C. Jones (Scott; a self-styled "M.B.S., C.S., D.D. --- Master of Back-Stabbing, Cork-Screwing and Dirty-Dealing!"), is a drifting confidence trickster who makes his living defrauding people in the southern United States. One of his specialties is rigged punchboards.
He befriends a young man named Curley (Sarrazin), a deserter on the run from the United States Army and the two team up to make money and keep out of reach of the law.
Production
The Car Chase scene was filmed in Irvine, Estill County, Kentucky and the Courthouse scene at the Clark County, Kentucky Courthouse.
The Pigeon Drop scene with Slim Pickens as Jarvis Bates was filmed in Winchester, Kentucky during September 8-10, 1966.
Cast
Reception
Ad blocker interference detected!
Wikia is a free-to-use site that makes money from advertising. We have a modified experience for viewers using ad blockers

Wikia is not accessible if you've made further modifications. Remove the custom ad blocker rule(s) and the page will load as expected.