The
Game Room
is a board on
AJM Studios
where you can play forum games. The AJM Studios' game area used to be pretty unactive when compared to other forums, but recently has had a steady flow of users on it. It is still low compared to most other forums which had Fun Boards being the most used boards.
Notable Games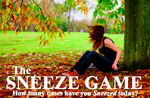 The Sneeze Game
Created by member Kim, The Sneeze Game was controversial. The reason being the dislike of sneezes among members, claiming it to be a dirty subject, and the draw of people from fetish communities. Some claimed this was just a follow up of the Ubs-serific Poll Tally's which were controversial for the same reason, but highly popular. This game was created on December 2, 2009.
Ad blocker interference detected!
Wikia is a free-to-use site that makes money from advertising. We have a modified experience for viewers using ad blockers

Wikia is not accessible if you've made further modifications. Remove the custom ad blocker rule(s) and the page will load as expected.