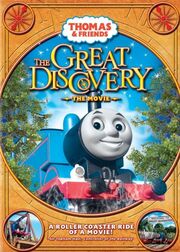 The Great Discovery is an upcoming direct-to-DVD-movie, based on the popular TV series Thomas the Tank Engine and Friends. It is scheduled to be released 9 September 2008 in the United States. It was the first Thomas and Friends production to be narrated by Pierce Brosnan.
Summary
Characters of the film
References
External links
Ad blocker interference detected!
Wikia is a free-to-use site that makes money from advertising. We have a modified experience for viewers using ad blockers

Wikia is not accessible if you've made further modifications. Remove the custom ad blocker rule(s) and the page will load as expected.