The Harbor Master's Adventures of The Little Mermaid is a fan-fiction movie crossover using clips from Theodore Tugboat and movie clips from The Little Mermaid Theodore Tugboat Stories features one Season 1 story and one Season 5 story told by Denny Doherty.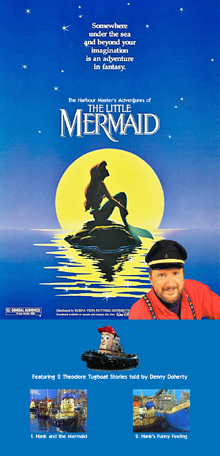 Notes
This is the very first Theodore Tugboat/Movie crossover adventure ever!
Theodore Tugboat Stories told by Denny Doherty.
From Cochran Entertainment and Walt Disney Pictures
Theodore Tugboat Stories
Hank and the Mermaid
Hank's Funny Feeling
Guest Stars
No guest stars are available yet.
Quotes
Trivia
Ad blocker interference detected!
Wikia is a free-to-use site that makes money from advertising. We have a modified experience for viewers using ad blockers

Wikia is not accessible if you've made further modifications. Remove the custom ad blocker rule(s) and the page will load as expected.