Jimmyandfriends's movie-spoofs of "The Incredibles"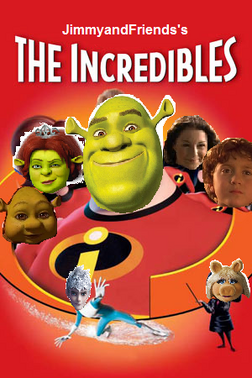 Cast:
Bob Parr (Mr.Incredible) - Shrek
Helen Parr (Elasticgirl) - Fiona (Shrek)
Violet Parr - Carmen Cortez (Spy Kids)
Dash Parr - Juni Cortez (Spy Kids)
Jack-Jack Parr - Fergus (Shrek)
Adult Syndrome - Pitch Black (Rise of the Guardians)
Edna Mode - Miss Piggy (Muppets)
Lucius Best/Frozone - Jack Frost (Rise of the Guardians)
Mirage - Aurora (Sleeping Beauty)
Gilbert Huph - Goofy (Disney)
Tony Rydinger - Taran (The Black Cauldron)
Young Syndrome - Cosmo (The Fairly OddParents)
Little Boy on Bicycle - Jamie Bennet (Rise of the Guardians)
Kari McKeen - Eilonwy (The Black Cauldron)
The Underminer - McLeach (The Rescuers Down Under)
Honey Best - Elsa (Frozen)
Bomb Voyage - Gaston (Beauty and the Beast)
Rick Dicker - Tarzan
Ad blocker interference detected!
Wikia is a free-to-use site that makes money from advertising. We have a modified experience for viewers using ad blockers

Wikia is not accessible if you've made further modifications. Remove the custom ad blocker rule(s) and the page will load as expected.