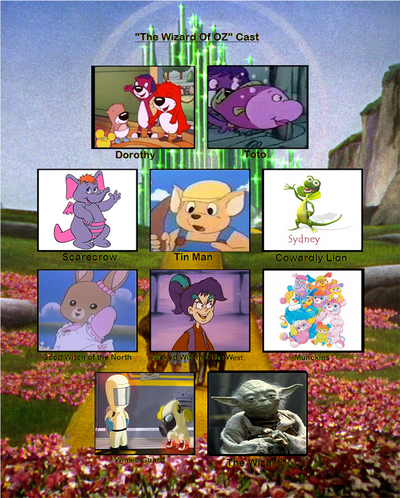 PB&Jotterisnumber1's spoof of
The Wizard of Oz (1939)
.
Cast

 WARNING: Do NOT edit or otherwise alter: Edit YOUR cast list ONLY. (See SP:CAST)

Peanut, Baby Butter, and Jelly Otter (from PB&J Otter) as Dorothy Gale
Bubbles (from PB&J Otter) as Toto
Eleroo (from The Wuzzles) as Scarecrow
Walter Kangaroo (from Adventures of the Little Koala) as Tin Man
Sydney (from Jingaroo) as Cowardly Lion
Shreeky (from The Care Bears Family) as The Wicked Witch of the West
Beastly (from The Care Bears Family) and Beasties (from Care Bears: Welcome to Care-a-Lot) as Flying Monkeys
Patty Rabbit (from Maple Town) as Glinda the Good Witch
The Popples, Rocker Popples, Baby Popples, Sports Popples, and Pufflings (from Popples (1986)) as Munchkins
Scientists (from Jetpack Joyride) as Winkie Guards
Yoda (from Star Wars) as The Wizard
Tagline
When three young otters and their pet bass end up in a whimsical world, new friends and adventure await.
Ad blocker interference detected!
Wikia is a free-to-use site that makes money from advertising. We have a modified experience for viewers using ad blockers

Wikia is not accessible if you've made further modifications. Remove the custom ad blocker rule(s) and the page will load as expected.