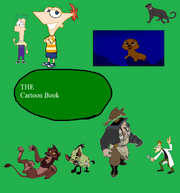 The Jungle Book (RJvernel Style)
is RJvernel's movie-spoof of "The Jungle Book".
Cast:
Mowgli - Cody (The Rescuers Down Under)
Baloo - Mercutio (Romeo & Juliet: Sealed with a Kiss)
Bagheera - Benvolio (Romeo & Juliet: Sealed with a Kiss)
Colonel Hathi - Bigwig (Watership Down)
King Louie - Tom (Tom & Jerry)
Kaa - Kong (Felidae)
Shere Khan - Claudandus (Felidae)
Shanti - Penny (The Rescuers)
Buzzie, Flaps, Ziggy and Dizzie the Vultures - Jim Crow and his Brothers (Dumbo)
Winifred - Blackberry (Watership Down)
Hathi Junior - Fiver (Watership Down)
Flunkey Monkey - Tiger (An American Tail)
The Bandar-Log Monkeys - Scat Cat and the Alley Cats (The AristoCats)
The Elephants - Various Animated Rabbits
The Deer - Goliath II's Mother (Goliath II)
Akela - Mufasa (The Lion King)
The Wolf Councils - Lions (The Lion King)
Rama (Father Wolf) - Simba (The Lion King)
Raksha (Mother Wolf) - Nala (The Lion King)
The Wolf Cubs - Young Kiara, Young Kovu, Young Vitani (The Lion King 2: Simba's Pride), Ryan (The Wild), Baby Alex (Madagascar: Escape 2 Africa) and Baby Lambert (Lambert the Sheepish Lion)
Baby Mowgli - Michael Darling (Peter Pan)
Ad blocker interference detected!
Wikia is a free-to-use site that makes money from advertising. We have a modified experience for viewers using ad blockers

Wikia is not accessible if you've made further modifications. Remove the custom ad blocker rule(s) and the page will load as expected.