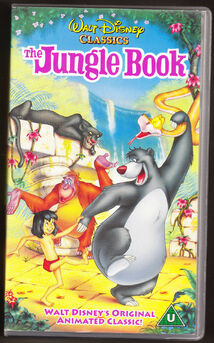 The Jungle Book is a UK VHS. This was Distributed by Walt Disney Home Video.
Plot
Snap your fingers, tap your toes and swing into the jazziest jungle of them all in Walt Disney's coolest Classic, The Jungle Book! This animated gem springs brilliantly to life when Mowgli, an orphan boy raised by wolves, is encouraged by his animal friends to leave the jungle before the return of the fearsome man-eating tiger, Shere Khan. With Bagheera (his loyal panther friend) at his side, Mowgli's journey back to the "man-village" begins. Along the way, he is befriended by a free-spirited bear named Baloo, who rescues him from hilarious run-ins with some of the wildest Disney characters ever created - eccentric elephants, a bewitching boa and a be-boppin' orangutan named King Louie! Through it all, it's lovable Baloo who teaches Mowgli the "Bare Necessities" of life and the true meaning of friendship. Filled with wonderful music and thrilling adventures, The Jungle Book is a swingin', singin', song-filled celebration you'll never forget!
Notes
Voices: Bruce Reitherman as Mowgli, Phil Harris as Baloo, Sebastian Cabot as Bagheera, Louis Prima as King Louie, George Sanders as Shere Khan, Sterling Holloway as Kaa, J. Pat O'Malley as Colonel Hathi and Buzzie, Verna Felton as Winifred, Clint Howard as Junior, Chad Stuart as Flaps, Lord Tim Hudson as Dizzie, John Abbott as Akela, Ben Wright as Rama, Darleen Carr as The Human Girl, Leo De Lyon as Flunkey, Hal Smith as The Slob Elephant, Ralph Wright as The Gloomy Elephant, Digby Wolfe as Ziggy, and Bill Skiles & Pete Henderson as Monkeys
Release Date: 28th October 1993
Distributed by Walt Disney Home Video
Opening Previews (UK)
Blue Warning screen
Closed Captions screens
Coming Soon to a Cinema Near You
Aladdin trailer
Walt Disney Home Video logo (with voiceover)
Beauty and the Beast trailer
Coming Soon from Jim Henson Video
The Muppet Christmas Carol trailer
EuroDisney Resort Paris 1993 UK trailer
Stay Tuned
Walt Disney Home Video logo
Start of The Jungle Book (1967)
Closing Previews (UK)
End of The Jungle Book (1967)
The End A Walt Disney Production
A Muppet Moment (about the swamp clip)
Ad blocker interference detected!
Wikia is a free-to-use site that makes money from advertising. We have a modified experience for viewers using ad blockers

Wikia is not accessible if you've made further modifications. Remove the custom ad blocker rule(s) and the page will load as expected.