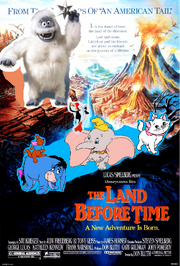 Disneysaurus's Movie Spoof of "The Land Before Time (1988).
Cast:
Dumbo (Dumbo) as Littlefoot
Marie (The AristoCats) as Cera
Roo (Winnie the Pooh) as Ducky
Puffin (The Swan Princess) as Petrie
Eeyore (Winnie the Pooh) as Spike
Indian Chief (Peter Pan) as Rooter
Mrs. Jumbo (Dumbo) as Littlefoot's Mother
Mr. Darling (Peter Pan) as Cera's Father
Hathi and Winifred (The Jungle Book) as Littlefoot's Grandparents
The Abominable Snow Monster (Rudolph, the Red-Nosed Reindeer) as Sharptooth
Scenes:
Main Titles: In the Time of the Animals
Dumbo
Kittens Never Play with Elephants
The Abominable Snow Monster!
The Earthshake
On His Own
Roo
Puffin
Marie and Abominable Snow Monster
Eeyore
Going After Green Food
The Abominable Snow Monster Returns
Troubles on the Way
The Wrong Way
Five Against The Abominable Snow Monster
The Great Valley
Ad blocker interference detected!
Wikia is a free-to-use site that makes money from advertising. We have a modified experience for viewers using ad blockers

Wikia is not accessible if you've made further modifications. Remove the custom ad blocker rule(s) and the page will load as expected.