Tomarmstrong14's movie spoof of "The Little Mermaid"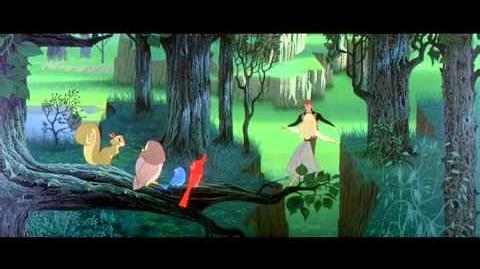 Cast:
Ariel - Aurora (a.k.a. Briar Rose) (Sleeping Beauty)

Eric - Prince Philip (Sleeping Beauty)
Flounder - Fievel Mousekewitz (An American Tail 2 Fievel Goes West)
Sebastian - Tom (Tom and Jerry)
Scuttle - Sylvester (Looney Tunes)
King Triton - Merlin (The Sword in the Stone)
Ursula - Maleficent (Sleeping Beauty)
Flostam and Jestam - Scmaper, Scurry and Scoot (Tom and Jerry Meet Sherlock Holmes)
Grimsby - King Stefan (Sleeping Beauty)
Chef Louis - Southern Wolf (Droopy)
Carlotta - Granny (Looney Tunes)
Max - Runt (Animaniacs)
Aquata - Anastasia (Anastasia)
Andrina - Red Hot Riding Hood (Droopy/Tom and Jerry)
Arista - Kida (Atlantis the Lost Empire)
Atina - Belle (Beauty and the Beast)
Adella - Pocahontas (Pocahontas)
Alana - Princess Elionwy (The Black Caurldon)
Harold the Seahorse - Tuffy (a.k.a. Nibbles) (Tom and Jerry)
Sailors - Mices (An American Tail), Top Cat (Top Cat), Lightning (Tom and Jerry), Dancing Alley Cats (The Aristocats), The Ringmaster (Dumbo), English Soilders (Pochaontas), Spike (Tom and Jerry) and Butch (Tom and Jerry)
Womanwashers - Flora, Fauna and Merryweather (Sleeping Beauty)
Ursula as Vanessa - Penelope Pitstop (Wacky Races/Perils of Penelope Pitstop)
Priest - The Chruch Mouse (God Will to Men (1955)
Ursula as King Triton - Dragon Maleficent (Sleeping Beauty)
Ad blocker interference detected!
Wikia is a free-to-use site that makes money from advertising. We have a modified experience for viewers using ad blockers

Wikia is not accessible if you've made further modifications. Remove the custom ad blocker rule(s) and the page will load as expected.