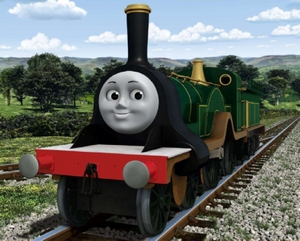 The Little Engine That Could (Casey jr Verison) is a spinoff film of
Casey jr and Friends
about Tillie's sister, Tracy the Little Engine (Alyson Stoner).
Plot
Characters
Tracy the Little Engine (Alyson Stoner): The main protagonist.
Casey jr (Cathy Cavadini)
Montana (Paul Dobson)
Emma (Cameo)
Humphrey the Freight Train (Rodney Saulsberry)
Rodrick the Big Locomotive (Mocean Melvin)
Minerva the Shiny Passenger Train (Brenda Song)
Cerberus the Nightmare Train (Ray Porter): The main antagonist.
Caboose (Patrick Warburton)
Pedro the Mailplane (Nathan Lane)
Eeyore
Kanga
Roo
Owl
Gopher
Lumpy
Richard (Dominic Scott Kay)
Princess Camille (Laura Mooney
Alice
Mad Hatter
White Rabbit
Tweedledum / Tweedledee
March Hare
Wendy
John
Michael
Jake (Colin Ford)
Izzy (Madison Pettis)
Cubby (Jonathan Morgan Heit)
Pirate Princess (Tori Spelling)
Skully (David Arquette)
Mowgli
Shanti
Ranjan
Bongo The Bear
Dumbo The Elephant
Ad blocker interference detected!
Wikia is a free-to-use site that makes money from advertising. We have a modified experience for viewers using ad blockers

Wikia is not accessible if you've made further modifications. Remove the custom ad blocker rule(s) and the page will load as expected.