Jimmyandfriends' movie spoof of "The Little Mermaid II: Return to the Sea"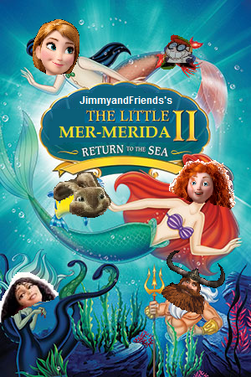 Cast:
Merida (Brave) as Ariel
Anna (Frozen) as Melody
Wreck-It Ralph as Prince Eric
Skippy Rabbit (Robin Hood) as Young Flounder
E.B. (Hop) as Adult Flounder
Dexter (Dexter's Laboratory) as Sebastian
Big Bird (Sesame Street) as Scuttle
Stoick the Vast (How to Train Your Dragon) as King Triton
Mother Gothel (Tangled) as Morgana
Mor'du (Brave) as Undertow (Regular Size)
Sheldon J. Plankton (SpongeBob SquarePants) as Undertow (Small Size)
Banzai and Ed (The Lion King) as Cloak and Dagger
Miss Piggy (Muppets), Red Fraggle, Mokey Fraggle (Fraggle Rock), Cindy Vortex (Jimmy Neutron), Vanellope von Schweetz (Wreck-It Ralph) and Trixie Tang (The Fairly Oddparents) as Ariel's Sisters
Bert (Sesame Street) as Grimsby
Eustace Bagge (Courage the Cowardly Dog) as Chef Louis
Muriel Bagge (Courage the Cowardly Dog) as Carlotta
Courage (Courage the Cowardly Dog) as Max
Gallery
Ad blocker interference detected!
Wikia is a free-to-use site that makes money from advertising. We have a modified experience for viewers using ad blockers

Wikia is not accessible if you've made further modifications. Remove the custom ad blocker rule(s) and the page will load as expected.