MrWaltdisneyclassic's movie-spoof of "The Little Mermaid"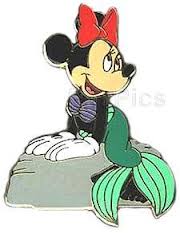 The cast will be:
Ariel - Minnie Mouse (Disney)
Eric - Mickey Mouse (Disney)
Flounder - Pikachu (Pokemon)
Sebastian - Goofy (Disney)
Scuttle - Donald Duck (Disney)
King Triton - King Leonidas (Bedknobs and Broomsticks)
Ursula - Aunt Figg (Tom and Jerry Movie)
Flotsam and Jetsam - The Willie Brothers (Home On The Range)
Grimsby - Edgar (The Aristocats)
Max - Pluto (Disney)
Adella - Luchia (Pichi Pichi Pitch)
Alana - Dawn (Pokemon: Diamond and Pearl)
Andrina - Brisa (Hero Kids)
Aquata - May (Pokemon: Advance)
Arista - Misty (Pokemon)
Attina - Eva (Walle)
Harold the Seahorse - LeFou (Beauty and the Beast)
Carlotta - Chof (Hero Kids)
Chef Louis - Roger Rabbit (Who Framed Roger Rabbit)
Ride - Magic Carpet (Aladdin)
Ursula as Vanessa - Tiana (The Princess and the Frog)
Ursula is a Mirror - Nesert (Hesffdr)
Board in the Sea - Guards Soliders (Cinderella)
Scuttle's Ran - The Titans (Hercules)
Priest - Elmer Fudd (Looney Tunes)
Cake - Cake (Bratz - The Movie)
The deffationation music - Tick-Tock Crocodile (Peter Pan)
Giant Ursula - Gubila (Ultraman)
Ad blocker interference detected!
Wikia is a free-to-use site that makes money from advertising. We have a modified experience for viewers using ad blockers

Wikia is not accessible if you've made further modifications. Remove the custom ad blocker rule(s) and the page will load as expected.