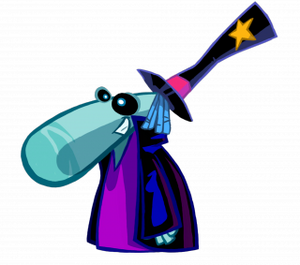 Ales Mansay,
also known as the 
"Magician" 
is the main antangonist in
Rayman Origins
.
Bio
Speicies: Teensie
Skin Color: Blue
Clothing: Purple Shirt, Black Coat, Black Top Hat With Yellow Star And Purple Strip
Allies: Livingstones, Hunters
Enemies: Rayman, Globox, Teensies, The Magician (Houndini)
Counterparts
Gallery
Ad blocker interference detected!
Wikia is a free-to-use site that makes money from advertising. We have a modified experience for viewers using ad blockers

Wikia is not accessible if you've made further modifications. Remove the custom ad blocker rule(s) and the page will load as expected.