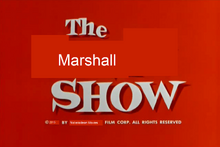 A parody of The Alvin Show starring characters from the Nick Jr PAW Patrol franchise, including some made-up characters, created by MarshallFan2015.
Cast
Marshall as Alvin
Chase as Simon
Rubble as Theodore
Ryder as Dave Seville
Mr. Porter as Clyde Crashcup
Cap'n Turbot as Leonardo
Farmer Yumi as Pictorial Crashcup
Jake as Sam Valiant
Ms. Marjorie as Mrs. Frumpington
Chickaletta as Sam the Eagle
Francois Turbot and Mr. Hudson as Police
Alex Porter as Bentley Van Rolls III
Carlos as Reese
Justina Goodway as Darace
Matea as Ostrich
Grover Goodway as Buffalo Bill
Ace Sorensen as Daisy Belle
Mailman as Baseball Champ
Gustavo Goodway as Billy Brown
Precious' Owner as Miss Fancy
Bayberry as Alexander
Butler of Barkingburg Castle as Neighbor
Danny as Chuck Wagon
Clown as Sam Merlin
The Judge as J.P. Lester
Fuzzy as George
Raimundo as King Malgin
Precious' Owner's Mom as Jeannie
Princess of Barkingburg as Ms. Goody
Santa Claus as Roger Marsell
Farmer Al as Harry
Otis Goodway as Thief
Dragon as Bear
Episodes
Chickaletta the Chicken
Jake, Private Nose
Squares
Parrot
Good Neighbor
Precious' Owner
Marshall's Alter-Ego
Jake: Real Estate
Camping Trip
Overworked Marshall
Dude Ranch
Jungle Rhythm
Alex Van Rolls
Good Manners
Little League
Hillbilly Son
Marshall's Cruise
Love Sick Ryder
Chicken in Love
Rubble's Skunk
Haunted House
Marshall's Studio
The Whistler
Sir Marshall
Disc Jockey
Chicken Music
Theme Lyrics
This is the Marshall Show! The Marshall Show!
You're positively gonna love the Marshall Show.
There's Ryder. And what is more?
Here's the boy who giggles known as Rubble.
Now you see on camera three.
The brother known as Chase on the family tree.
And here's the star of the show!
Marshall! Marshall!
I am Mr. Porter Crashcup!
Mr. Porter Crashcup: the great inventor!
Ready? Here we go!
Here's the Marshall Show!
Gallery
Ad blocker interference detected!
Wikia is a free-to-use site that makes money from advertising. We have a modified experience for viewers using ad blockers

Wikia is not accessible if you've made further modifications. Remove the custom ad blocker rule(s) and the page will load as expected.