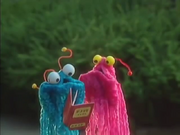 The Martians are adorable little Sesame Street characters who appeared from 1974 to 2012. They speak in "yip-yip-yip-yip-yips" and "nope nopes". They have been performed by Jim Henson, Frank Oz, Jerry Nelson, Richard Hunt, Martin P. Robinson, Kevin Clash, David Rudman, Julianne Buescher, John Tartaglia, Eric Jacobson, Matt Vogel and Leslie Carrara-Rudolph.
Quotes
Pink Martian: Oh? BRRRRRRRRRING! Yip-yip-yip!
Light Blue Martian: Oh.....................brrrrrrrrrrrrring!
Pink Martian: Brrrrrrrrrring! (phone rings)
Ad blocker interference detected!
Wikia is a free-to-use site that makes money from advertising. We have a modified experience for viewers using ad blockers

Wikia is not accessible if you've made further modifications. Remove the custom ad blocker rule(s) and the page will load as expected.