Yoohoo! Yoohoo! A steamer's escaping! Yoohoo!

—The Passing Diesel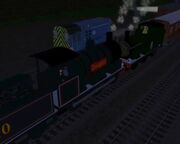 The Passing Diesel is a Diesel who shouted a warning that Oliver (TV Series) was escaping. When Douglas was helping Oliver, Isabel and Toad_(Brake_Van) escape from scrap, he witnessed the event. Douglas told the stowaways to take no notice of the diesel. The Passing Diesel was not seen in any illustrations.
Parodies
Ad blocker interference detected!
Wikia is a free-to-use site that makes money from advertising. We have a modified experience for viewers using ad blockers

Wikia is not accessible if you've made further modifications. Remove the custom ad blocker rule(s) and the page will load as expected.