Jimmyandfriends's movie-spoofs of "The Pebble and the Penguin"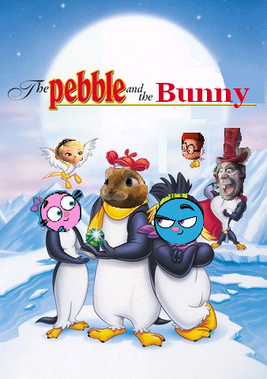 Cast:
Hubie - E.B. (Hop)
Rocko - Yang (Yin Yang Yo)
Drake - Archibald Snatcher (The Boxtrolls)
Marina - Yin (Yin Yang Yo)
Timmy - Sherman (Mr. Peabody And Sherman)
Petra - Penny Peterson (Mr. Peabody And Sherman)
Beany - Hiro Hamada (Big Hero 6)
Leopard Seal - Chunky (The Croods)
Killer Whales - Bruce, Anchor and Chum (Finding Nemo)
Drake's Servants - Mr. Trout, Mr. Pickles and Mr. Gristle
The Boots - Professor Robert Callaghan (Big Hero 6), Hans (Frozen) and Kent Mansley (The Iron Giant)
Vultures - Acer and Grem (Cars 2)
Royal - Eugene H. Krabs (SpongeBob SquarePants)
King - Metalbeard (The Lego Movie)
Scrawny - Benny (The Lego Movie)
Magellanics - Miss Piggy and Kermit the Frog (Muppets)
The Good Ship Misery Penguins - Various Cartoons
Tika - Scrat (Ice Age)
Chubby - SpongeBob SquarePants
Gwynne - Princess Bala (Antz)
Pola - Andie (The Nut Job)
Priscilla - Sandy Cheeks (SpongeBob SquarePants)
Penguins - Various Characters
Ad blocker interference detected!
Wikia is a free-to-use site that makes money from advertising. We have a modified experience for viewers using ad blockers

Wikia is not accessible if you've made further modifications. Remove the custom ad blocker rule(s) and the page will load as expected.