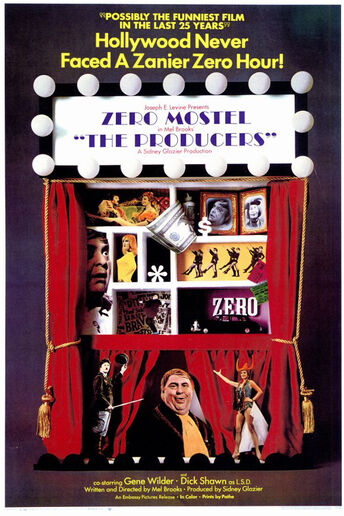 The Producers
is a 1968 American Satirical Comedy Film written by
Mel Brooks
and
Thomas Meehan
and directed by
Mel Brooks
. The film is set in the late 1960s and it tells the story of a theatrical producer and an accountant who want to produce a sure-fire
Broadway
flop. They take more money from investors than they can repay (the shares they've sold total more than 100% of any profits) and plan to abscond to Brazil as soon as the play closes, only to see the plan improbably go awry when the show turns out to be a hit.
The film stars Zero Mostel as Max Bialystock, the producer and Gene Wilder as Leo Bloo, the accountant and features Dick Shawn as L.S.D., the actor who ends up playing the lead in the Musical within the Movie, Kenneth Mars as the former Nazi Soldier and Playwright, Franz Liebkind, Mickey Rooney as Porky Switzer, a wise-cracking choreographer, Buddy Hackett as Buckwheat McFarland, a dim-witted painter and Dick Van Dyke as Lennie Benjamin, a clumsy critic of The New York Times.
The Producers was the first film directed by Mel Brooks. He won an Academy Award for Best Original Screenplay, along with Thomas Meehan. Decades later, it was selected for preservation in the National Film Registry and placed 11th on the AFI's 100 Years...100 Laughs list. The film was later remade successfully by Brooks and Meehan as an acclaimed Broadway Stage Musical which itself was adapted as a film.
Plot
Max Bialystock (Zero Mostel) is a washed-up, aging Broadway Producer who ekes out a living romancing lascivious wealthy elderly women in exchange for money for his next play.
Cast
Production
Mel Brooks wanted to title the film Springtime For Hitler, but Embassy Pictures Producer Joseph E. Levine would not let him.
Release
Reception
Parodies

Main article:
The Producers (1968)