The RPG Rooms is a board on AJM Studios where you can roleplay. A very popular RPG called the S.S.S.S. RPG used to run on the board, but as of now the S.S.S.S. RPG is under hiatus. The RPG Rooms is currently doing good thanks to some new RPGs.
Some Popular RPGS and their Point
New Land RPG Created by USAPatriot, New Land RPG is a successful Sandbox style RPG. It involves players creating towns and businesses on this unnamed island. As time went on, players can name the geographic features on the island and end up naming the island and choosing it's fate. Mayors create schools, education, and safety facilities in the game and watch their towns progress getting vital population stats ando ther helpful stats as well during updates. The updates contain photos of the mayors town. Businesses are made by members to try and make extra income or help out the island. As of now, the island has been officially named Douglas Island.
AJM National Football Alliance (NFA) Created by USAPatriot, The NFA is a fantasy football league played by AJM STUDIOS Members and has weekly updates during the game seaso which consists of 15 games. There are fictional teams in real cities in this fictional league that has had good success.
AJM Pro-Cup Racing Created by USAPatriot, AJM STUDIOS Pro-Cup Racing League is a fantasy style racing game with updates. Players manage teams and increase the skill of drivers they purchase to run for their team. The first season of the series had real NASCAR drivers in it with a full 43 car field, but the second season saw a cut back to fictional drivers with a shorter schedule and only 20 drivers per race. It has had a lot of success.
World Market RPG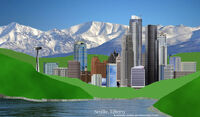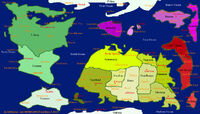 USAPatriot went to huge dividends to get this RPG out. It is far more then a basic RPG, and more of a open ended real living world. The members join and become leaders of country's that are similiar to real countries. From their the members make all the chocies for their country and how to interact with other nations. They can wage war, create peace, make alliances and more. How the member rules their country is even more open ended, whether it's a democracy or a dictatorship, it all can be morphed into however the player wants it. Whole maps and cities, economies, climates, and infrastructures were created for this RPG to seem as realistic as possible. Leaders have to use their resources accordingly if they want to be good, or take it all from their citizens.
S.S.S.S. RPG Created by USAPatriot, The S.S.S.S.S. RPG Is a multi thread series that had members of the S.S.S.S. roleplay on adventures and missions, including a beach mission. An open ended adventure with a ultimate goal in it.
Through the Ice Started by Killerboy is now a big hit that takes place on a foreign planet with soldiers lost in a barren icy world trying to find a microchip to return to their base. Killerboy plans on the sequel to be much more organized and professional.
Ad blocker interference detected!
Wikia is a free-to-use site that makes money from advertising. We have a modified experience for viewers using ad blockers

Wikia is not accessible if you've made further modifications. Remove the custom ad blocker rule(s) and the page will load as expected.