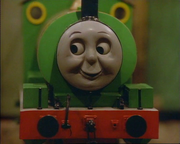 by Christopher Awdry
Previous Book: More About Edward the Blue Engine (January 8th, 1997)
Next Book: 'Arry and Bert. (February 19th, 1997)
Percy was tired of the smell of fish and heads off to Tidmouth, and the Fat Controller announced to have a best station competition, the next day, Percy meets up a ram who manages to help out when a station is trashed.
Percy was complaining about being a put upon engine when he says he is overworked and gets into a disaster of a mine.
Alicia Botti, a famous opera singer, is coming to Sodor for a concert and the engines are wondering who will take her to the venue at the castle. However, they all agree that Percy will not be chosen as he is very dirty. Come the following day, the Fat Controller had chosen Thomas and tells him to be squeaky clean.
Thomas goes to the washdown where Percy is waiting to be cleaned. However, Thomas insists that he must go next as he has an important job. Percy sets off, still dirty, to collect some coaches for his guaranteed connection. However, once Thomas and his coaches are cleaned, they hear a squeak. His crew assume that Annie and Clarabel's wheels are the cause of this, so they oil them. But, once on the move, the squeak continues on, making Thomas worried.
At Brendam, Thomas pulls up to collect Alicia Botti and the Fat Controller opens one of Clarabel's doors. Unfortunately, there is a mouse in the carriage, which causes Alicia Botti to scream; she screams so loudly that all of the windows around Brendam break. Alicia Botti refuses to ride in Clarabel, much to the embarrassment of Thomas and the Fat Controller. Just then, Percy arrives back from his guaranteed connection and Alicia Botti considers him as a proper engine because of his dirty appearance and decides to ride in him.
Later, Thomas is back at the washdown when Percy arrives. This time, he lets Percy go next for his wash. That night, whilst Alicia Botti is performing her concert at the castle, Thomas and Percy are at Tidmouth Sheds where the mouse, whom Thomas named "Alicia", now lives.
The Fat Controller urgently needs to get to Lady Hatt's birthday party.